Interreg MED INHERIT project​
Supported by the European Regional Development Fund (ERDF), and the Department of Bouches-du-Rhône, AIFM is a partner of the integrated Interreg MED INHERIT project, involving 15 partners from 10 Mediterranean countries. This project is scheduled to last 4 years, it started on 1 February 2018 and will end on 31 January 2022.
INHERIT aims to conserve and enhance natural heritage in MED coastal and maritime tourist destinations. It tests and deploys a new approach adapted to the MED specificities to protect natural heritage from the harmful effects of mass tourism. INHERIT promotes sustainable tourism by mitigating the seasonality of tourism, addressing the issue of carrying capacity, developing and implementing a "bottom-up" protection approach based on self-regulation and monitoring by local tourism stakeholders.
Based on transnational cooperation and the results of the SO3 MED projects and on a new approach to sustainable tourism, INHERIT develops a community tourism policy that will allow:
To capitalise on good practices to protect the natural heritage;
To promote and support sustainable tourism activities and destinations;
To have the MED area recognised on the European markets as an area that effectively protects its natural heritage.
As a result, INHERIT could be a future reference point for projects and initiatives that advance green growth in the Mediterranean.
The INHERIT project is an integrated Interreg MED project, which aims to meet the specific objective 3.1 of the program, namely "Strengthening the development of sustainable and responsible coastal and maritime tourism in the MED area".
The project has four main objectives:
Identify and implement measures to protect the natural, forest and biodiversity heritage in the Mediterranean coastal regions, in particular the Integrated Coastal Zone Management-Maritime Spatial Planning (ICZM-MSP) zones, to advance tourism sustainable development and enhance transnational cooperation;
Design, test and capitalize self-regulation measures and sustainable tourism activities that value natural capital and its biodiversity in partner territories;
Design, test and capitalize pilot areas called "INHERITURA" in the partner territories, then develop multi-destination ecotourism itineraries and highlight assets under-exploited from a tourist point of view. The "Côte Bleue" is the pilot site of the INHERIT project in connection with the AIFM;
Raise awareness of environmental and biodiversity protection among local stakeholders in the tourism sector.
The project is implemented by the AIFM together with 14 state, regional and thematic partners, from 10 Mediterranean countries:
Region of Peloponnese (Greece) – lead partner
Ministry of Tourism – Republic of Croatia (Croatia)
Emilia-Romagna Region (Italy)
Region of Murcia (Spain)
Puglia Region (Italy)
Department of Herault (France)
Public Agency for promotion of entrepreneurship and developing projects of Municipality of Izola (Slovenia)
Larnaca and Famagusta Districts Development Agency (Cyprus)
Malta Regional Development and Dialogue Foundation (Malta)
SENECA Foundation (Spain)
University of Patras (Greece)
Institute of Agriculture and Tourism (Croatia)
Park Dinarides (Montenegro)
Association for Preservation of the Heritage of Mertola (Portugal)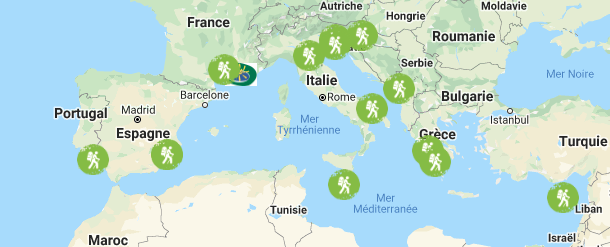 AIFM has developed a "Methodology and tools for collecting data on the best protection measures of the Mediterranean natural heritage against the effects of mass tourism", which was disseminated to its partners at the end of August 2018. This methodology contained a questionnaire aimed at key actors in the relevant field, as well as a bibliographical research tool for partners. After collecting and analysing the data collected, a comparative analysis report entitled "Policy analysis report on the protection of Mediterranean natural heritage against the effects of mass tourism" was finalised in February 2019 by AIFM. This final report was then validated by all partners during the 3rd project meeting in March 2019 and has been translated and published in French
AIFM has made various contacts with remarkable sites located in the Bouches du Rhône area; and finally, the "Côte Bleue" site was chosen as an INHERIT pilot site in September 2019 after discussions with the land owner and manager.
Throughout the end of 2019, discussions were held with local stakeholders, whether public or private, from the tourism sector or environmental protection, to identify the needs of the territory. According to these exchanges, the lack of trail use data is a significant lack in order to be able to take action on trail erosion and for effective communication. Once counters are implemented, stakeholders can measure the frequency, know the typology and thus adapt the response to reduce and mitigate negative impacts on the environment. Also, they can communicate figures and promote the Côte Bleue asset, its landscapes and trails.
From February to July 2020, 10 Eco-counter counting systems were set up on the Rove and Ensuès-la-Redonne hills.
The first figures collected are surprising: in 6 months, a total of 200,000 hikers have walked along the trails equipped with eco-counters on the Côte Bleue. More than 2,000 passages per day were recorded on the most visited section of the Douaniers trail.