FAO and IUFRO publish guide on forest and water management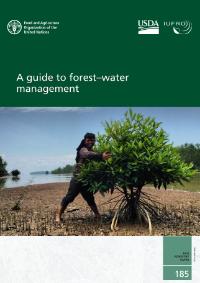 On the occasion of World Water Week, the Food and Agriculture Organization of the United Nations (FAO), in partnership with the International Union of Forest Research Organizations (IUFRO), the Joint Research Centre of the European Commission, the United States Forest Service and other partners, presented its new publication on managing forests and water together.
The publication aims to improve the global information base on the protective functions of forests for soil and water. It reviews emerging techniques and methodologies, provides guidance and recommendations on how to manage forests for their water-related ecosystem services, and offers an overview of the business and economic case for such management.
Water security is a critical global issue today: this paper shows that water-centred forest management can provide nature-based solutions for global water resilience.
FAO, IUFRO and USDA. 2021. A guide to forest-water management. FAO Forestry Paper No. 185. Rome. https://doi.org/10.4060/cb6473en